20 Most Promising RFID Technology Solution Provider -2018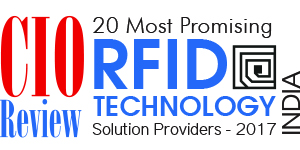 Eliminating conventional vision-based bar code reading systems, the increased use of RFID (Radio Frequency Identification) technologies brings calm to the chaotic supply chain processes and offers better and error-free visibility to the movement of assets and tracking of inventory, thereby enabling the allocation of the saved resources to more productive uses. In essence, an RFID tag possesses an embedded transmitter and receiver that allocate a unique identity to an object across various industrial environments. Optimized sales, better customer service, improved visibility, considerable cost reduction, and increased operational efficiency are some of the benefits that are driving the implementation of RFID technology solutions. Recent advances in this technology have begun propelling this trend forward. However, viewing this as a lucrative sector, there has been an influx of vendors penetrating into this market with lack of RFID experience and skills, quoting prices far less than any of its competitors to win the bid. This ultimately results in failure, leaving clients with the perception that RFID is not useful for its business case. Compounding this problem, India is a price sensitive market where firms are faced with hordes of proposals from RFID vendors with an inadequate understanding of the technology and how to work around its limitations. After careful consideration keeping the aforementioned factors in mind and post an extensive research, CIOReview facilitates these enterprises in search of the right vendor with a compact list of "20 Most RFID Technology Solution Providers". This go-to list encompasses skilled vendors that offer the right solutions in parallel to advancing technologies in this domain. The vendors featured in this listing have been carefully selected by a well-renowned panel of CEOs, CIOs, industry analysts, and the CIOReview editorial team.
We present to you CIOTechOutlook 20 Most Promising RFID Technology Solution Provider -2018.
Top RFID Technology Solution Provider
| | |
| --- | --- |
| Coresonant Systems | Provides end-to-end turnkey solutions in the domains of Radio Frequency Identification (RFID), Smart Cards, Biometrics, RTLS, GPS and NFC based technologies. |
| Coromandel Infotech India | A provider of enterprise mobility solutions for asset lifecycle management, material handling, vehicle tracking, mobile invoicing and more. The company also delivers enterprise solutions and... |
| Dani Data Systems | Provider of AIDC (Automatic Identification and Data Collection), RFID, NFC, Security, and Attendance solutions. |
| Delonti, Inc. | A provider of RFID solutions including indoor navigation, global positioning system, near-field communication solutions and more. |
| Dolphin RFID | A provider of end to end RFID solutions that includes RFID locking system, laptop tracking systems, student care tracking system and more. |
| Eco Track Systems | Equips clients with high-end RFID hardware components and solutions like RFID Reader, Tags, Cards, Handheld data term |
| Encore Techsol | A provider of business solutions with expertise over RFID, Mobility, Enterprise, Inventory Tracking by Barcoding solutions etc. |
| Globees Solutions | A provider of RFID technology solutions with focus in developing easy-to-use yet sturdy solutions. |
| HexaHash Technologies | Provides a host of RFID solutions for Employee Tracking, RFID Tool & Asset Tracking, Supply Chain & Logistics, Laundry & Jewellery Management, IoT & Smart Cities, and RFID Consulting. |
| Infotek Software & Systems | Provider of RFID E-Seal infrastructure |
| IT Tech | Provider of RFID hardware, software, and system |
| ITC Infotech | Provider of RFID technologies for tracking and monitoring transporting containers |
| Markss Infotech | Offers RFID & Barcode based solutions for supply chain, warehouse & distribution, WIP, Asset management, healthcare and Salesforce Automation. |
| NXP | Provider of a full suite of RFID solutions across all frequencies. |
| Omnia Technologies | Manufacturer of LF, HF and UHF RFID Tags and Customised RFID Tags |
| Orizin Technologies | Provider of RFID solutions for Library management, Asset tracking, parking management and File Tracking. |
| Perceptron Software Labs | Provider of RF-ID scanners and readers for handling transactions on campus for students and RFID tags used in mining , processing and cement plants. |
| Scan Infotech | Provider of RFID based hardware products such as scanners, printers handheld and hands-free RFID readers |
| Syndicate RFID | Provider of RFID labels and tag solutions deployed in logistics and supply chain, IT & Industrial Asset management and automotive industries. |
| Zebra | Provider of RFID readers, antennas and printers |